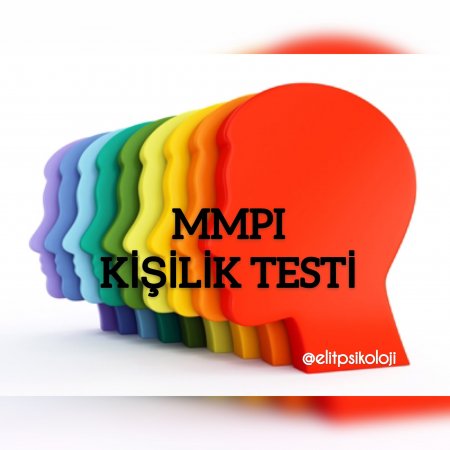 The MMPI is a very comprehensive personality test that aims to objectively evaluate an individual's personal and social adjustment.
MINNESOTA VERSATILE PERSONALITY INVENTORY
(Minnesota Multiphasic Personality Inventory – MMPI)
The Minnesota Multidimensional Personality Inventory (MMPI) is a comprehensive personality test that aims to objectively evaluate an individual's personal and social adjustment. The MMPI is the most widely used personality test in mental health. It is a test applied by professional practitioners to help determine the personality structure and psychopathology of people, that is, to measure personality disorders. It consists of 560 questions and takes approximately 60-90 minutes. between them can be answered.
It can be applied to anyone over the age of 16.
As a result of the test, an official report is prepared by our clinical psychologist regarding the following personality disorders.
In Which Areas and Who Is The MMPI Personality Test Applied?
With the MMPI test, psychological characteristics other than illness such as family problems, anger and anxiety problems, work-related problems, problems in interpersonal communication, self-confidence, anti-social characteristics and health-related concerns, and way of thinking can be evaluated.
Apart from these, the MMPI Personality Test is commonly used in psychiatry clinics to diagnose:
Depression
Hypochondriasis (disease disease)
Hysteria (Conversion)
psychotic deviation
Femininity-masculinity (Sexual preferences and tendencies)
Paranoia (Extreme skepticism)
Psychosthenia (obsessive-obsessive thought disorder)
Schizophrenia
Hypomania (Manic disorder-extreme emotional outbursts)
Social introversion (Shyness)
What Is The MMPI Personality Test Used For Other Than Disease Diagnosis?
The MMPI multidimensional personality inventory is not just a test to measure whether there is a disease or psychological problem. In addition to determining whether the person has psychological problems in the applied test, it can determine what the person is like in general, and can reveal the normal personality traits of the person applied. In this context, it can be used to determine whether couples who are considering marriage are suitable for each other in terms of personality or to determine their suitability for employment in recruitment.
Although the MMPI is a personality test and measurement tool designed to help evaluate a wide range of diseases in psychiatry clinics, it is also frequently used in the following areas as it is effective in measuring personality traits:
Selection of high-ranking and high-ranking public officials,
Elections for police officer recruitment and unit changes
Nuclear power plant personnel
fire station staff
Airline personnel and pilots, air traffic controls
Protection and advisors of state elders
Persons to be determined as to whether they have criminal and legal capacity
Evaluating and selecting judicial candidates
in scientific research
It is a scientific test that is used safely in the world to determine the level of adjustment before marriage.