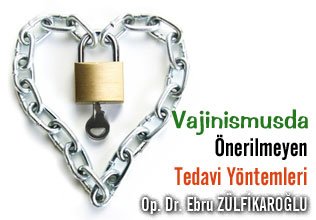 Patients with vaginismus often realize that they do not really have vaginismus and that this problem will be resolved over time. spontaneously they think it will be okay. When they realize that they can't have sexual intercourse after a certain period of time in their union, many people seek treatment. excuse they argue and avoid treatment. However, during this time, many relationships between couples irreversible damageWe are witnessing the development of
If couples with vaginismus make a treatment decision and apply it, unfortunately, the application of wrong treatment methods in the wrong centers is unnecessary for couples. moneyand waste of timecauses it.
Couples who come to the treatment very shyly are experiencing disappointments by losing their belief that they will be treated. For these reasons We recommend that couples with vaginismus research very well the clinics where they will receive treatment.
We can list the wrong treatment methods that we have witnessed in the stories of our patients who applied to our clinic and which are definitely not recommended:
. Medicines that have a muscle relaxant or painkiller effect
. Local anesthetic ointments
. Hot water sitz baths
. Drinking alcohol or taking sedatives before sexual intercourse
. Having sexual intercourse under general anesthesia in the office environment by being anesthetized
. Having sexual intercourse under epidural or spinal anesthesia, that is, by numbing the lower part of the waist
. Removal of the hymen: If the hymen is anatomically thick and high-sided, the hymen should be removed. Otherwise, it will not contribute to the solution of vaginismus.
. Sorcerers, witchmasters
With these applications with local or general effects, couples with vaginismus may not be able to fully relax and have intercourse, and may cause them to completely alienate from sexuality. Due to drugs or alcohol-related side effects depressed moodto themselves insecurityit gets deeper and the contractions become more intense in later relationships.
Since it is not possible to treat vaginismus permanently in all such treatment approaches, it is believed that couples will often have successful treatment after treatment. their faith is completely gone we see. In the time spent with these treatments, unnecessary moneyand waste of timeBesides, it is a fact that the relationships of the couples are negatively affected.
Patients with these not recommended treatments pessimismi and concernsIt should not be forgotten that the problem is getting more intense and the problem is getting bigger instead of solving it.